So last week, Dana called me and said that her mom had sent her a package and that there was a present in there for me. She told me that she would drop it off at my dorm on Thursday around four. I was excited to see Dana and to see what her suprise was. (I suspected cookies.)
I got back from class Thursday at four and saw Dana's car outisde of my dorm, so I ran up to my room, thinking that she would be waiting for me. She wasn't there, though, and so after fifteen minutes, I called her in case she had forgotten where my dorm was. She said that she had been waiting for me at where I used to cross the street from the parking lot to my dorm but that I don't use anymore because it takes longer than my new way. So she met me at my room and we went to her car to get the present from her mom.
When we got to her car, she handed me a letter from Manuel! It was talking about why he loved me and I was reading it out loud to Dana. At the end of the first page, it said, "...and best of all..." so I turned the page over and saw:
The top line that is tiny says "I'm at the end of the tunnel."

I started crying and walking towards the tunnel, but Dana told me that he had moved and was now around the corner. :) It was such a big surprise! He came up because we started dating a year ago on November 12th. It was super sweet and I loved being able to see him.

All weekend we just did homework! I had five tests to study for and a paper to finish and he had a lot of homework to do as well. Even though we just did homework, we had a great weekend. I am super exctied to go visit him again in December for Christmas! (And then I get to see him a super lot when he [hopefully] comes up to Iowa State!)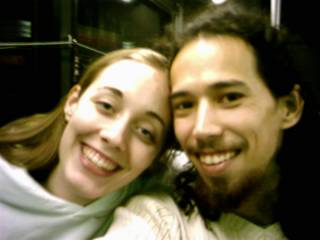 Manuel...thank you for coming up and for planning so much to surprise me! You are such a holy and wonderful man and I thank God every day that He has brought us together and continues to guide us in our relationship.
Dana...you are so sneaky! Thank you for picking Manuel up at the airport and bringing him to my place to surprise me! You are the best best friend anyone could ask for! I hope that someday I am able to do something awesome for you like you've done for Manuel and I
so
many times!
Jesus, thank you so much for the gift of Dana's friendship and for the gift of being with Manuel this weekend! You are the best ever!