Today I was really happy with Neot because he ate some of his food! [Ok...he actually just sucked it up and then spit it out, but I am hoping that he got some in his tummy and he knows it is something to eat.] Every baby step counts! Speaking of Neot, here's a picture I painted of him in my journal last night.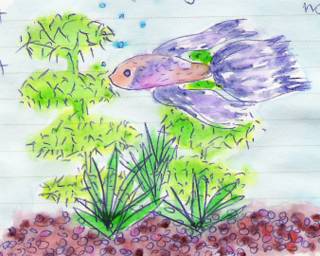 Everything else seems to be going a bit better, save my paper. :) I know that I should be working on it, but I really don't want to and I've been really busy. But we only have two weeks left, so I should really get at it.

Also, my friend Cathy who lives across the hall is moving out. She decided that now's not the right time to be at university, and will go back to NICC (northern iowa community college) and live at home. Best of luck to her! I pray that she discovers God's plan for her life.

I love watercolor!

But my paper calls...